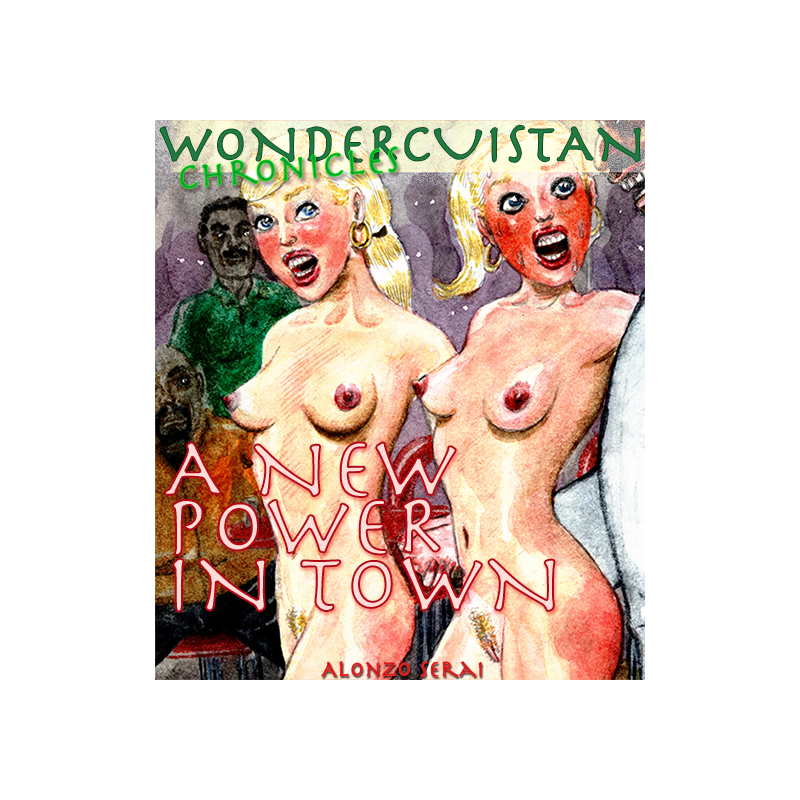 
A New Power in Town
Roman Illustré
CHRONIQUES DU WONDERCUISTAN : Volume 1
crossover de la série "Les Pouliches Blanches"
EN ANGLAIS SEULEMENT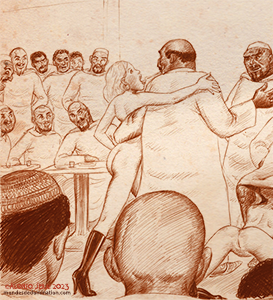 Un nuage jaune apparait au-dessus de Troussy-en-Cuisse, et soudain tout change...
document Pdf
200 Pages (104 double pages)
47 200 mots
30 dessins (1 en couleurs)
ISBN:978-2-491740-12-2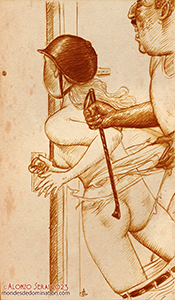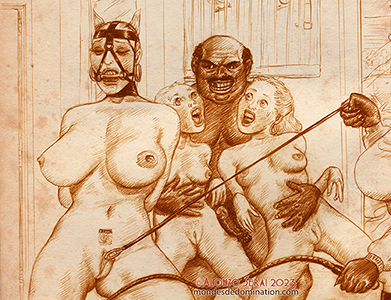 The closet was silent, except for a few sounds of flesh rubbing against wood and rubber. Probably her sisters were experiencing some trouble finding sleep too. As for the Bouzids, whom she had just decided to name Master and Mistress, just to be ready for anything, they had stopped talking and were now moaning with pleasure. She realized that she was touching herself, unwittingly moving her pelvis in synchronism with the rhythm of the moans.
   When Monsieur and Madame Bouzid began to shout louder, Florelle couldn't help getting an orgasm. It was far from what she had experienced that evening, but it was making the time pass. All hot and sweaty, she heard the Bouzids talk in Arabic again, and even that was arousing. Everything in relation with her beloved Monsieur Bouzid was arousing anyway!
    The doors of the closet opened brutally. Florelle made alittle jump of surprise and put away her hand from her vulva.
   As her view was slowly getting used to the light, she saw the head of Monsieur Bouzid rise to the high level of her shelf and look at her with sweet tenderness. It was incredible how this face she had been finding old and ugly in the past had become so fast the quintessence of excitement and bliss. Obviously, she had missed it for all these years because deep inside she was prejudiced!
   She wasn't sure whether Monsieur Bouzid had the time to see the removal of her hand from her pussy. She hoped not! Maybe he didn't care that she was touching herself, but what if he was considering that as being unfaithful? With horror, she felt the fingers of Monsieur Bouzid rub her beauty lips. Instinctively, she clenched her thighs in a perfectly useless gesture, trying to hide the wetness of her pubis.
   "Florelle!" Monsieur Bouzid said, "you naughty girl.
   You're the only one who had been aroused listening to your masters making love. It's good to see that at least one of you is concerned by what the people who own your lives do!"
   The sound of four slaps on naked flesh, followed by brief little cries of pain, made her jump.
   "This will remind you that you have to be always attentive to what we do! From now on, you only sleep when we sleep, and you pay attention to everything that concerns us. We are your religion now! Is that understood?"
   Five "yes" could be heard with a tone of voice that left no doubt about how much awake they all were now.
   Florelle was reassured. Monsieur Bouzid liked her to be aroused! And he wanted to share his life with them up to the last detail. That was great! And amusing too, as she had noticed a touch of regret in the voice of her sisters. These prejudiced know-it-all would definitely pay more attention tothe well-being of the masters in the future! What a stinging lesson for them!
Aucun commentaire pour le moment